The Ministry of Finance has found a method on how to save budget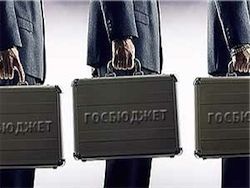 Officials of the Ministry of Finance with the independent experts have prepared a program to optimize cost the state treasury . It allows for 3 -year savings of more than a trillion rubles , the document is considered by the government.
Get a profit officials intend to get from the reduction in spending on pensions , maternity capital and the public sector. Thus, experts suggest stimulate citizens to work as long as possible by adding additional factors to the size of the old-age pension . Also, experts insist that the retirement age has been raised for a complete fixed base size of the retirement pension . If the authorities will approve the proposal , the age for women will increase to 60 in 2029. In accordance with the law December 31, 2016 , the payment of maternity capital authors of the report are going to stop .
They argue that the issue does not renew it makes more sense , because it is better to increase the benefit to low-income families , it will cut the cost of three times. Experts are convinced that for the public sector that by optimizing its financing costs will be reduced by about 10-15 %.
Experts also expect that their proposal for a law that will regulate the provision of state and municipal grants. In accordance with this law , the beneficiaries will be required to have and provide public reports .
Also in this document will be discussed issues for the control of the financing costs of educational and medical institutions.
The idea of ​​the document is that the waste reorient within each sector. Note that in all of this , actively and deliberately not considered proposals to increase investments in any one industry at the expense of reducing the cost of another.
Anton Siluanov said they would cut the planned budget expenditures for the years 2014-2016 . The Finance Minister also said that these procedures and actions will be made by determining priorities , and not simply cut costs in the budget deficit . According Siluanova supposed to reduce payments to the pension fund and the cost of rearmament program .