In the U.S. stock indexes closed the fall auction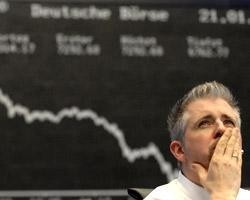 This month, trading on the stock exchange has been completed, due to the reduction of the major indexes. This situation occurred during adverse macroeconomic news.
In connection with the reduction of the " quantitative easing" concerns were part of investors. There was a stoppage on the stock exchanges because of America's Federal Reserve decided to shorten the time for a program to has been an important stimulus for the markets and businesses.
A large number of experts are deeply convinced that the amount of "quantitative easing" podkorrektirovki planned very soon, somewhere in October or after will choose a new head of the Federal Reserve.
Still, the main reason for the completion of the trading session, there were discussions about the U.S. budget and the national debt . In the U.S., the fiscal year starts from the beginning of the month of October. But it must be before October 1, approve the state budget for next year. However, this decision will depend on the upcoming negotiations on the U.S. debt.
This discussion is slowly beginning to move from the economic to the political field . At the same time , the experts have done the calculations and came to the conclusion that the current "ceiling" may be reached as early as the middle of next month. In the end, the government will have 2 ways.
The first way is to declare a default or the second way - partially and temporarily stop their work. These prospects have worsened the mood of traders. Even Horsham news, not helped.
For example, Apple announced its new sales record for its smartphones. For three days Apple sold 9,000,000 copies of the new smartphones. At the end of trading session on 23 September 2013. Dow Jones index fell by 49.71 points ( -0.32 % ) - up to 15,401.38 points, the S & P was down 8.07 points ( -0.47 %) - to 1701.84 points, the Nasdaq fell by 9 , 44 points ( -0.25 %) - to 3765.29 point