Decisive dialogue in Chisinau: Moldova wants electricity from Transnistria again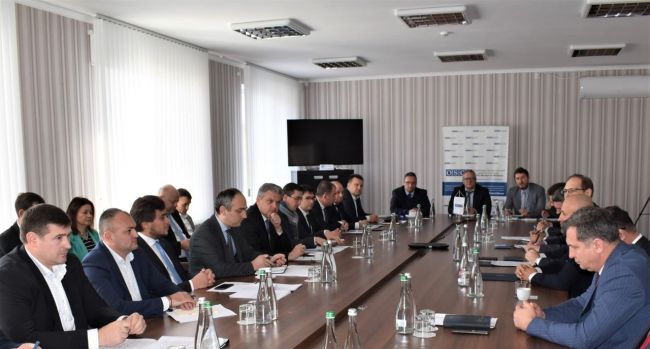 Political representatives of Pridnestrovie and Moldova are holding a meeting in Chisinau today, December 2. The consultations are again devoted to discussing the energy crisis faced by the region due to the reduction of Russian gas supplies, as well as the freedom of movement of citizens, in particular, the in-depth inspection of Pridnestrovian officials at the Chisinau airport.
The Moldovan side is represented by Oleg Serebrian, Deputy Prime Minister for Reintegration, and Vitaly Ignatiev, Minister of Foreign Affairs of Pridnestrovie, negotiator from Tiraspol. At the end of the discussion, they promised to go to the press. Communication takes place at the OSCE site.
Before the meeting, OSCE Secretary General Helga Maria Schmidt stated that the mission has always facilitated such meetings, this year there were eight of them.
It is known that the main topic that Serebryan plans to raise is the possibility of resuming the supply of electricity from the Moldavian GRES to the right bank of the Dniester. In October, the authorities of the Republic of Moldova decided to abandon the electricity generated by the Inter RAO enterprise in Transnistria (provided 70% of the needs, Moldova bought another 30% in Ukraine in order to diversify), since for this it was necessary to supply MoldGRES with an additional volume of gas. Now Chisinau buys electricity in Romania at a price 5-7 times more expensive and through Ukraine, which creates additional risks.
On the eve of the Minister of Infrastructure and Regional Development Andrei Spynu confirmed that the capacity of MoldGRES is sufficient to provide electricity to the entire territory of Moldova, and the Chisinau authorities continue to negotiate on this issue.
The last meeting of political representatives in the negotiation process on the Transnistrian settlement took place on October 28 at the OSCE headquarters in Tiraspol on the initiative of Moldova. Serebryan was ready to talk about the problems in the energy sector, which he called general, and Ignatiev raised a wide range of economic issues: the import of medicines and food and the work of banking institutions. He advised Serebryany to discuss her agenda in Moscow, being then sure that these challenges would not affect Tiraspol. Then the parties did not come to a common denominator.
Two days later, Transnistria itself faced a shortage of gas, Moldovagaz proportionally cut the limit for the Left Bank, explaining that Gazprom, due to the situation in Ukraine, reduced the total amount of natural gas for the Republic of Moldova by more than a third. The Security Council of the PMR accused the Moldovan authorities of deliberate under-delivery, imposed an economic emergency and has already turned to Russia for help.